ART NEWS!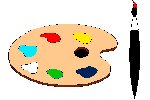 Welcome to Art with Ms. Yelton! I am so excited to meet all of my creative students! This year we will be exploring many art medias, artists and art history. We will work together each class period and try our best! Let's get creative!
Be Familiar with the Art Room Rules:
1) Raise your hand to ask a question.
2) Keep your body to yourself.
3) Speak in a "classroom voice"
4) Stay in your seat unless Miss Yelton asks you to do a job.
5) Share supplies and ideas.
6) Respect our room, our supplies and each other.
7) We clean up our messes.
Planning period: 8:00 am-9:55 am, feel free to contact me during this time by phone or e-mail.